Please click on one of the links below to find out more about the next event within the
Barony of Ynys Fawr or the greater Kingdom of Lochac.
Please click on the links below to find out more:
Royal Event – The Holy City – War and Feast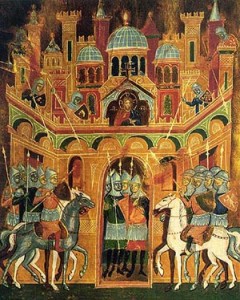 Date: 7 February 2015
Site: Surges Bay Hall and Oval,
Esperance Coast Road, Surges Bay, TAS 7116
Cost: Full Day – Adult $41, Teen $26, Child 6-12 $18
Feast Only – Adult $35, Teen $20, Child $15
Day Only –  Adult $10, Teen $5, Child $5
Children 0-5 Free  / Non-members add $5
The Holy City is a tour through 1000 years of Jerusalem's history in food and culture. Join the Canton of Lightwood as they host the Khagan and Yeke Khatun for a day of war, markets, entertainment and a night of revelry, and explore the tumultuous history of the city which was the sacred centre of the medieval world.
Steward: Adelindis filia Gotefridi, geneste@flurf.net
Bookings: Ursula Mariae Einhorn bookings@lightwood.lochac.sca.org (Bookings close 1-02-2015)
The Ynys Fawr Event Calendar or Our Regular Activities