UNDER CONSTRUCTION
This page is being edited and updated. Please come back soon!
[IN MENU STRUCTURE]
Knight Marshal – Lord Anselm da Calabria (Nicholas Calabria)
The Marshals are in charge of the arts of war and tourney. These include missile combat, target archery, siege artillery and heavy foot combat.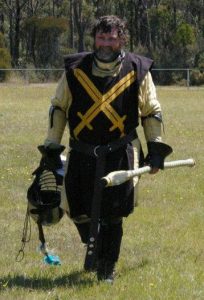 Their primary concern is the adherence to the various rules and conventions on equipment and behaviour of the field of combat.
The Barony welcomes anyone interested in contributing to the safety and enjoyment of combat. Our Marshals are happy to take on MITs (Marshals In Training) to assist with our various combat forms. If you'd like to become an MIT, please contact the Baronial Knight Marshal.
NB: You do not have to be a fighter to become a Marshal!
Another important combat-related administration position is the Lists Officer, responsible for organising the fighting order in tournaments and recording the results.
If you would like to assist with this by taking note of results, or acting as a runner between the marshals and the lists, contact the Lists Officer.
Some tourneys require you to have a "list-shield", a small wooden shield with your device, badge or other symbol. These are displayed on a list-tree to mark the progress of the tourney (see an example in this image from Midwinter Coronation 2007).