WINTERSOUTH
Ynys Fawr's 30th Birthday
LOCATION: Orana Guide Camp, 146 Roches Beach Road, Roches Beach TAS 7170
DATES: Friday 7th to Sunday 9th July 2023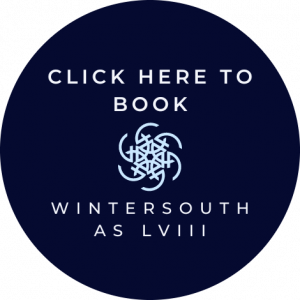 Come test your rattan, blades, arrows and needles in the legendary Ynys Fawr, to celebrate it's Birthday in deepest Winter. Bear witness as we celebrate the Anniversary of Ynys Fawr's founding, 30 years since our fair Barony was created in the winter of A.S. XXVIII.
Tales will be told of that fabled time when the Sun shone brightly upon our first Baron and Baroness under the icy Crags of Mount Roland. Hear of the great Deeds of our Barony's past and marvel. Meet with your Kin both new and old, and rejoice in our Mead Hall safe from the winter Night.
Your endurance will be tested in the almost endless martial Contest, only to rest at day's end with our bright flickering Hearth and our warm hospitality. Pay heed to our Words, make haste to secure your place at our event. For this will be a Gathering that honours those who have come before, that exalts those that join us in the present, and that will guide our Barony into a Glorious future. Long Live Ynys Fawr!
FOOD
All meals will be provided – Friday night soup kitchen, Saturday & Sunday breakfasts, Saturday & Sunday lunches, and the Saturday night feast.
MARKET
Open for 2.5 hours in the morning.
Raid & Trade table – Sell or trade your unwanted plunder.
Artisan stalls – Designated stalls for those that can fill a full trestle table.
VALHALLA FEAST
Come join us in the great hall to honour our populace, our history and the kinship we hold with the rest of Lochac. 
Enjoy enough hearty food and good conversation to warm your stomach and soul. 
Be entertained by the populace and create memories to last another 30 years of prosperity!
Accomodation
Bunking and camping facilities are available for event goers.
Limited camper-van facilities may be available – speak with the camp directly.
For information click the image beneath:
Steward
Drusticc inigena Eddarrnonn.
Email: drusticc@gmail.com
Time-Table
| Friday | Saturday | Sunday |
| --- | --- | --- |
| 12.00 noon – Setup begins | 9:00 – Armour inspection completed | 9:00-11.30 – Market |
| 4.00pm – Site opens to attendees | 9:00 – Court | 10:00 – Court |
| 5.30 – Soup Kitchen begins | 9:15 – Valhalla tournament (heavy) | 10:30 – Heavy armour inspections |
| 6.00 – Games inc. indoor kubb, chess, dancing, cards, blind Viking boffer | 12:00 – lunch | 11:00 – Holmgang tournament begins (heavy) |
| 7.30 – Opening Court | 1:00 – Rapier armour inspection completed | 12:30 – Lunch |
| 8.00 – Bardic circle around the campfire, inc. storytelling. | 1:00 – The tournament on Leidarholm Hill (rapier) | 1.00 – Available class slot |
| | 2.30 – Archery competition begins on the oval | 2.00 – Available class slot |
| | 4.30 –  Available class slot | 3.00 – Closing court |
| | 5:45 – Feast Hall opens | 5.00 – Site officially closes |
| | 6.30 – Valhalla Feast, including Court and entertainment | |
Pricing
Non members add insurance of $10
| Adults | Booked before 1st March | Booked before 1st May | Booked before 23rd June |
| --- | --- | --- | --- |
| Full event, inc 2 nights accomm, all meals | $130 | $150 | $180 |
| Full event, inc 2 nights accomm, no food | $80 | $92 | $111 |
| Full event, no accommodation, all meals | $70 | $81 | $97 |
| Full event, no accommodation, no food | $20 | $23 | $28 |
| Saturday only, inc all meals | $58 | $67 | $80 |
| Saturday only, no food | $20 | $23 | $28 |
| Saturday feast only | $40 | $46 | $55 |
| Saturday feast only, no food | $20 | $23 | $28 |
| Saturday daytime only | $18 | $21 | $25 |
| Saturday daytime only, no food | $10 | $12 | $14 |
| Sunday only | $18 | $21 | $25 |
| Sunday only, no food | $10 | $12 | $14 |
Non member Minors of any age add insurance of $5
| | | | |
| --- | --- | --- | --- |
| Minor 6-17 years (0-5 are free) | Booked before 1st March | Booked before 1st May | Booked before 23rd June |
| Full event, inc 2 nights accomm, all meals | $65 | $75 | $90 |
| Full event, inc 2 nights accomm, no food | $56 | $64 | $76 |
| Full event, no accommodation, all meals | $49 | $56 | $48 |
| Full event, no accommodation, no food | $14 | $16 | $14 |
| Saturday only, inc all meals | $41 | $47 | $48 |
| Saturday only, no food | $14 | $16 | $14 |
| Saturday feast only | $28 | $32 | $42 |
| Saturday feast only, no food | $14 | $16 | $14 |
| Saturday daytime only | $13 | $14 | $12 |
| Saturday daytime only, no food | $7 | $8 | $7 |
| Sunday only | $13 | $14 | $12 |
| Sunday only, no food | $7 | $8 | $7 |